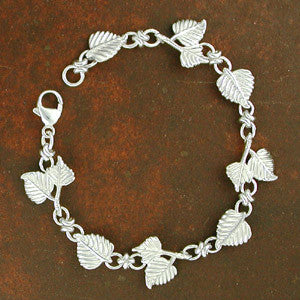 Aspen Leaves Bracelet - sterling silver
The leaves on our Aspen Leaves Bracelet are separated by a small "knot" casting.  This makes it one of the most flexible and comfortable bracelets you've ever worn!
There are 8 leaf links castings instead of 12 on the Quaking Aspen Bracelet, making this style more affordable.
Our Aspen Leaves Bracelet is 7 1/8" in length.  Each connection is soldered creating an heirloom quality piece of jewelry.