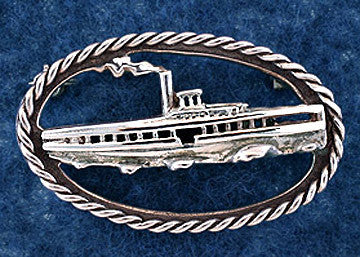 Steamboat Pin - Sterling Silver
The design of our Sterling Silver Steamboat Pin is based on the Ticonderoga Steamboat, which is permanently on display at the Shelburne Museum in Vermont.  The actual boat is over 220 feet long!  It is America's last remaining side-paddle-wheel steamer from this era.  We made this pin to honor its memory.
Our pin measures 1 3/8" long by 3/4" high.  It has a joint & catch mechanism silver soldered on the back.  Waves break under the bow and steam blows out of the chimney stack.  A rope border frames it nicely.  ALL ABOARD!